Suspicious Package
Download & Install
Download Suspicious Package disk image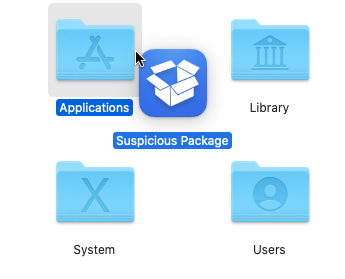 Download and open the disk image above.
Drag Suspicious Package to your Applications folder, or wherever else you'd like to keep it.
After copying Suspicious Package, you can eject the disk image and move it to the trash.
Suspicious Package requires macOS 10.13 (High Sierra), macOS 10.12 (Sierra) or OS X 10.11 (El Capitan). If you're running an older version of macOS, see more info here.
Note that, as of version 3.3, Suspicious Package no longer supports OS X 10.10 (Yosemite) or OS X 10.9 (Mavericks).
Added in Version 3.3
Compatibility with macOS High Sierra.
Show any verified signing time in package signatures.
Try harder to ensure Quick Look plug-in is registered when app is opened after move or update.
See the Release History for additional details.