Suspicious Package
Download & Install
Download Suspicious Package disk image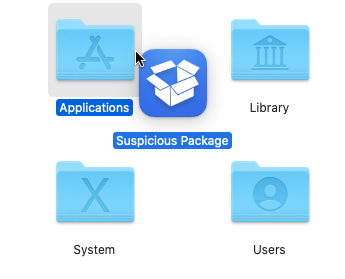 Download and open the disk image above.
Drag Suspicious Package to your Applications folder, or wherever else you'd like to keep it.
After copying Suspicious Package, you can eject the disk image and move it to the trash.
Suspicious Package requires macOS 10.12 (Sierra), OS X 10.11 (El Capitan), OS X 10.10 (Yosemite) or OS X 10.9 (Mavericks). For other releases of OS X, see more info here.
If Quick Look doesn't seem to be using Suspicious Package to preview packages, see more info here.