Suspicious Package
Download & Install
Download Suspicious Package disk image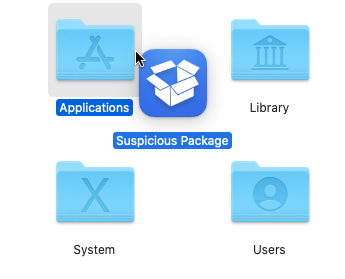 Download and open the disk image above.
Drag Suspicious Package to your Applications folder, or wherever else you'd like to keep it.
After copying Suspicious Package, you can eject the disk image and move it to the trash.
Suspicious Package requires OS X 10.11 (El Capitan), OS X 10.10 (Yosemite) or OS X 10.9 (Mavericks). For other releases of OS X, see more info here.
If Quick Look doesn't seem to be using Suspicious Package to preview packages, see more info here.
Added in Version 3.1
Added in Version 3.0
With this new version, the Quick Look plug-in is bundled inside of the Suspicious Package application. Even if you only want to use the Quick Look feature of Suspicious Package, this simplifies installation — no more ironic Suspicious Package package! Just put the app in the Applications or Utilities folder (or wherever you want) and the plug-in will be available to Quick Look. And if you do want more information than what the Quick Look preview provides, the app is one click away.