Suspicious Package
Quick Look Preview for macOS 10.14 (Mojave)
Starting in version 3.6, Suspicious Package produces a Quick Look preview using the new API introduced in macOS 10.15 (Catalina).

However, for macOS 10.14 (Mojave), the old Quick Look generator plug-in is still used. The information below is relevant only to that older Quick Look preview, and is preserved here for Mojave users.
Using From Quick Look on
macOS

10.14

Suspicious Package also includes a plug-in for the Quick Look feature of macOS, so you can get a quick preview of a package right from the Finder. Select a package and use File > Quick Look (Command-Y), or just press the spacebar.

Suspicious Package will generate a preview, from which you can see the installed files, the install scripts, and some other general information, such as the signature trust type: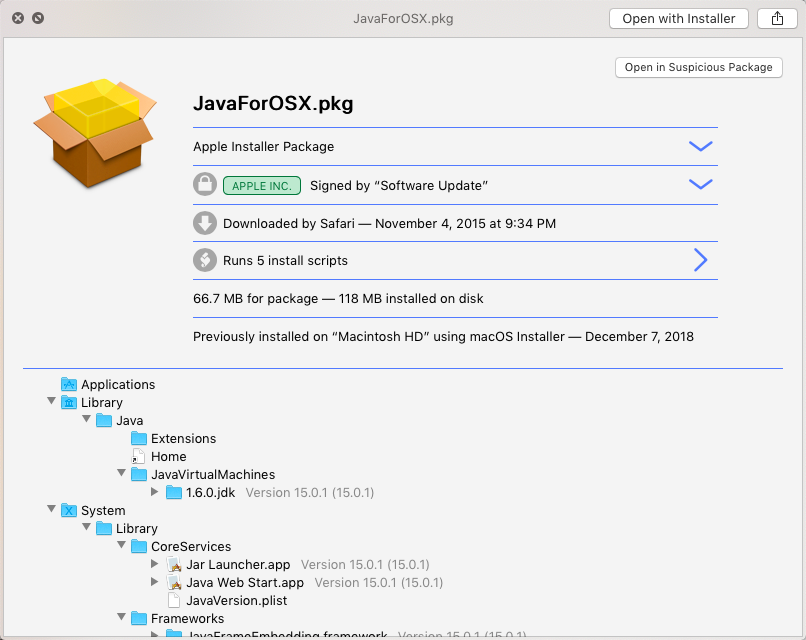 The Quick Look preview doesn't show everything that the app does, and doesn't offer all of the same features (mostly because of the fundamental limitations of Quick Look). For example, you can't do any sort of searching or filtering of files or scripts; copying of script text or opening scripts in other applications is impossible; and no checking is done for potential issues.
Back to the App
If you're examining a package with the Quick Look preview and want additional information, click the Open in Suspicious Package button (in the top-right corner of the preview) to open the same package in the app.
To jump directly to a specific installed file or folder in the app, hold down the Command key, and click the Show in Suspicious Package button that appears:

To jump directly to a specific install script in the app, select the script in the browser, and click the Show in Suspicious Package button next to the script name:

The

Open in Suspicious Package

and

Show in Suspicious Package

buttons are not available in macOS 10.15 (Catalina)
FAQ
Why don't I get the Suspicious Package preview in Quick Look?
Although you can install Suspicious Package app anywhere you like, Quick Look can be stubborn about recognizing the plug-in that is bundled inside of it. Specifically, you must open the Suspicious Package app at least once before Quick Look will even consider using its plug-in (this is, presumably, a security measure, so that only apps which pass the Gatekeeper checks can generate Quick Look previews). After you do that, Quick Look should find and use the plug-in.
If you open the app before dragging it to your Applications folder (or wherever you've decided to keep it), make sure to open it again after you've copied it. If you open the app directly from the disk image, it will not be marked as safe-to-use for Quick Look.
When the Suspicious Package app is opened for the first time, it will request that Quick Look update its plug-in registry, and that will usually suffice to get previews working immediately. Starting in version 3.3, the app repeats this request to Quick Look after the app has been moved or updated, or after macOS itself has been updated — these are all scenarios that can prevent or delay Quick Look in finding Suspicious Package.
If, after opening the app, you still do not get a proper Suspicious Package preview from Quick Look, you can open the Terminal and run the following command to force the issue:

/usr/bin/qlmanage -r

Why don't I get a Quick Look preview in Apple Mail (or in other apps)?
Although macOS offers Quick Look previews from many different contexts — beyond just the Finder — there are issues that prevent Suspicious Package from working in some cases.
For example, if a macOS installer package is attached to a mail message, you can request a Quick Look preview directly from Apple Mail — select the attachment and choose File > Quick Look Attachments (or use Cmd-Y or spacebar, just like in Finder). Usually, this does properly display the Suspicious Package preview.
However, if the Suspicious Package app is not installed inside the standard Applications folder, this might not work. For some reason, Apple Mail attempts to inspect our Quick Look plug-in directly, and because Mail is sandboxed, it can't "see" the plug-in if it lives in your home folder, and then Mail decides not to use it. If you get a generic Quick Look preview from Mail, this is probably the reason. Unfortunately, the only way we know to make this work is to move the Suspicious Package app to the Applications folder (or somewhere underneath it). In our testing, this problem no longer occurs in macOS 10.15 (Catalina).
Suspicious Package previews should generally appear and work correctly from other contexts, such as the Finder's Gallery view in macOS 10.14 (Mojave), and in the Spotlight results window. However, you may find that, in some of these contexts, the Suspicious Package preview is too small or difficult to work with. You may be able to resize the preview area to make it more usable, but this is not possible in all contexts. We're aware of these issues, but haven't quite figured out how to improve upon them.
Why don't I get a Quick Look preview in Finder windows set to use Column view?
Finder's Column view (i.e. View > as Columns) shows Quick Look previews in the rightmost pane for some types of files. But it doesn't support interactive previews such as Suspicious Package (excepting some of the built-in types, like PDF files or movie files).
We haven't found any way to make Suspicious Package work in this context, so if you are using Column view, you will still need to explicitly request a Quick Look preview for installer packages, e.g. using the spacebar or Cmd-Y.