Suspicious Package
Download & Install
Download Suspicious Package disk image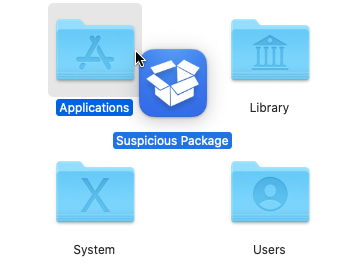 Download and open the disk image above.
Drag Suspicious Package to your Applications folder, or wherever else you'd like to keep it.
After copying Suspicious Package, you can eject the disk image and move it to the trash.
Suspicious Package requires macOS 10.13 (High Sierra), macOS 10.12 (Sierra) or OS X 10.11 (El Capitan). If you're running an older version of macOS, see more info here.
Added in Version 3.3.2
Fixed a bug that could cause exports to get stuck.
Added context menu to files and scripts tabs.
See the Release History for additional details.