Suspicious Package
Download & Install
Download Suspicious Package disk image
| | |
| --- | --- |
| Version | 4.2.1 (932) |
| Bundle Identifier | com.mothersruin.SuspiciousPackageApp |
| Code Signature | Developer ID Application: Randy Saldinger (936EB786NH) |
| Notarized On | Sun Apr 10 07:41:26 PST 2022 |
| Download Container | Signed Disk Image |
| Download Bytes | 6399351 |
| Download SHA256 | 5c05df9bf3d56758a3eefa972597e3138afdea4c3774f91fe2849482b7112823 |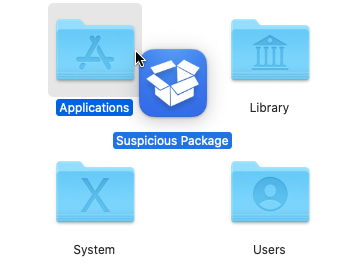 Download and open the disk image above.
Drag Suspicious Package to your Applications folder, or wherever else you'd like to keep it.
After copying Suspicious Package, you can eject the disk image and move it to the trash.
Suspicious Package supports:
macOS 12 (Monterey)
macOS 11 (Big Sur)
macOS 10.15 (Catalina)
Suspicious Package supports Macs with Intel or Apple Silicon processors.
Trying the macOS 13 beta? Read more about Suspicious Package on Ventura.
New in Version 4.2.1
Remove Bash from Review warning about "deprecated runtimes."
Fix a crash that could occur with certain configurations of language preferences.
Improved handling of a package with missing or corrupted component packages.
New in Version 4.2
Much more info on the All Files tab, including executable architectures and entitlements, as well as new filters for searching files by these attributes.
Package Info tab shows more info about processor support, so you can see at a glance if, say, "all executable items support Apple Silicon and Intel processors."
New "merged" view of all entitlements requested by all installed executables, and a way to copy app identities for pasting into a PPPC Profile.
New Review warnings, including for scripts that use built-in runtimes that Apple has "deprecated" (or already started to remove).
Other bug fixes and improvements.
See the Release History for additional details.