Apparency
Download & Install
| | |
| --- | --- |
| Version | 1.2 (118) |
| Bundle Identifier | com.mothersruin.Apparency |
| Code Signature | Developer ID Application: Randy Saldinger (936EB786NH) |
| Notarized On | Sat Mar 06 12:37:57 PST 2021 |
| Download Container | Signed Disk Image |
| Download Bytes | 3563785 |
| Download SHA256 | 149bf8eaa10b75648d44af39366fbb57193a83bbcf45cd5dbaaa92e4e08218cc |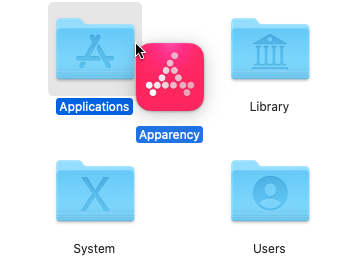 Download and open the disk image above.
Drag Apparency to your Applications folder, or wherever else you'd like to keep it.
After copying Apparency, you can eject the disk image and move it to the trash.
Apparency supports:
macOS 11 (BigSur)
macOS 10.15 (Catalina)
macOS 10.14 (Mojave)
Apparency supports Macs with Intel or Apple Silicon processors.
New in Version 1.2
Runs natively on Apple Silicon Macs.
Improved compatibility with macOS 11 (Big Sur), especially around toolbar and icons.
Inspects provisioning profiles.
Inspects App Store receipts.
Reveals app containers and any group containers.
Improved usability of Quick Look preview in narrow contexts, such as Finder Preview pane.
See the Release History for additional details.